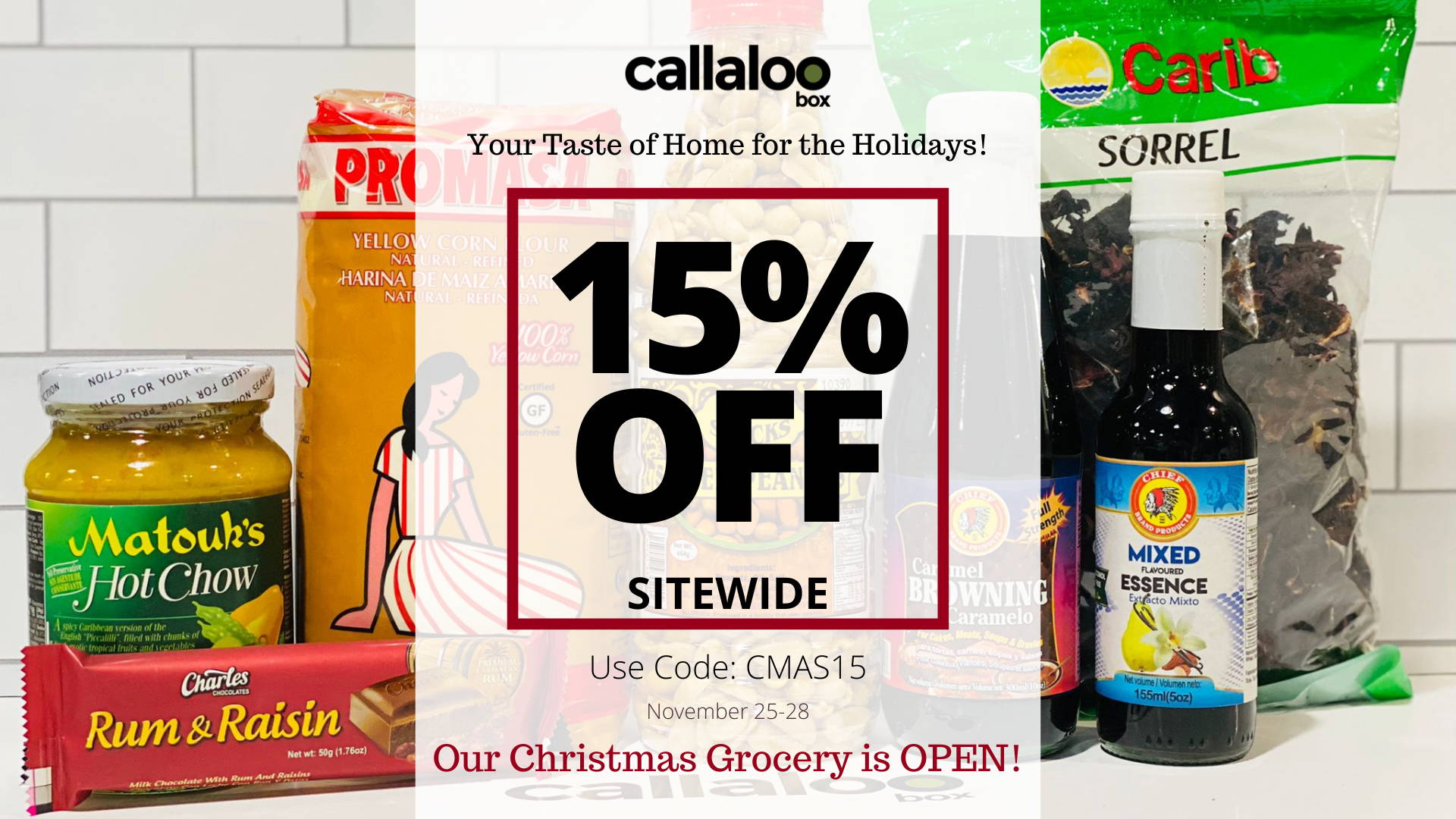 Frequently asked questions
Have questions? We're here to help
How long does it take for my order to be shipped?
Please allow 2-4 Business Days for orders to process before they are shipped. We do not ship on Saturdays, Sundays nor US Federal Holidays. Please allow additional processing times during sale events & the Holidays.
How long does shipping usually take?
Transit times to your destination vary based on your location (We ship from South Florida). Shipping takes between 1 and 4 business days for standard delivery.
Once your order is shipped you will receive an email from orders@callaloobox.com which contains the name of the shipping carrier and the tracking number. Please check your junk/spam folders if you haven't received the shipping confirmation email.
Click on the tracking number in the email and you will be directed to the carrier's tracking page for the latest update on the location of your package.
Callaloo Buck$ is our customer loyalty program. Earn buck$ for online purchases, social media activity & referring friends. Redeem your buck$ for cash!
How do I sign up for Callaloo Buck$?
Signing up is free and easy. All you have to do is create an account online. As soon as sign up, you automatically earn 200 Buck$ ($5 reward) and can start earning additional Buck$. Sign up here.
How do I redeem my rewards?
Once you earn rewards, you can redeem them by clicking on the green "Callaloo Buck$" button or green gift box at the bottom left of your screen. Select "All rewards". Select "buy" next to the reward you would like to redeem. Copy the code and enter it into the discount code box when checking out. The coupon code applies to all items on callaloobox.com with the exception of monthly subscription boxes and items purchased with the subscribe & save option.
I redeemed points but have not used it. Where do I find it?
Once you redeem your Buck$, you can view unused ones by logging in to your Callaloo Box Account. Click the green "Callaloo Buck$" button or green gift box at the bottom left of your screen. Scroll down to "Your rewards" and select. You will see your available rewards, select the reward you would like to spend. Click Copy Code, shop our store & add the code to your cart at checkout.
Double Callaloo Buck$ promotion applicable on orders placed starting Monday 21st November 2022 9:00 PM EST to Tuesday 13th December 2022 11:59 PM EST. Callaloo Buck$ will be automatically credited after the order is placed. The Buck$ total equals the amount spent after promotional offers, but before taxes and shipping charges are applied.
Customers who are not enrolled in the Callaloo Buck$ loyalty program must create a Callaloo Box Customer Account to redeem Buck$.
Afterpay: Shop now & pay later! Choose Afterpay as your payment method at checkout. Make the first of 4 payments now. Pay it off over 6 weeks. Never pay interest.


*Sale starts Friday 25th November 12:00 AM EST and ends Monday 28th November 2022 11:59 PM EST. Applicable on all items in the Callaloo Grocery, Callaloo Box Apparel & Callaloo Box Merchandise. Includes already reduced Bundle & Save items. Excludes Callaloo Box subscriptions & Auto-Replenish + Save items in the Callaloo Grocery. Discount code must be entered during checkout for discount to apply. Discounts cannot be entered after order is placed. Excludes Callaloo Box monthly subscriptions & Auto-Replenish + Save items in the Callaloo Grocery. This offer cannot be combined with any other discounts or coupons.
8360 West Oakland Park Blvd, Suite 101, Sunrise FL 33351