We're closing the curtain on this month's box & grocery theme: Caribbean Hot & Spicy!
August is a special month for us here at Callaloo Box.
We start the month with our Emancipation Celebrations! August is our birthday month - so we celebrated whole month & then closed out with Trinidad & Tobago Independence Celebrations!


Here's a recap of everything that happened this past month.
NEW TO THE CALLALOO GROCERY
We added to our preserves collection with Louis Fruit Preserves Sweet Mango!
We know we've seen stock outs on some of your favorite items due largely to the ongoing supply chain crisis & delays from shipments coming from Trinidad.
We were thrilled to restock on our best selling and customer favorite items like Swiss Trinbago Tomato Ketchup, Lat Chiu Spicy Mango, Holiday Snacks Big Foot Cheese Snacks, Swiss BBQ Sauce & Lat Chiu Spicy Cherries!
The Caribbean Hot & Spicy Box
This box celebrates the amazing heat and flavor of Caribbean Pepper! Pepper (hot) sauce is a staple in any Caribbean home, with many different types and variations.
Caribbean pepper sauces are known not only for the heat but also for the wonderful flavor. Pepper is definitely a part of the Caribbean culinary landscape!
We Couldn't Have Said It Better Ourselves
See why thousands of customers love Callaloo Box
Love it
Easy to make and soooo delicious
I remember eating fry channa growing up as a child in Trinidad. This brings back so many memories.
The Best
Love this armchair. It's spicy and delicious.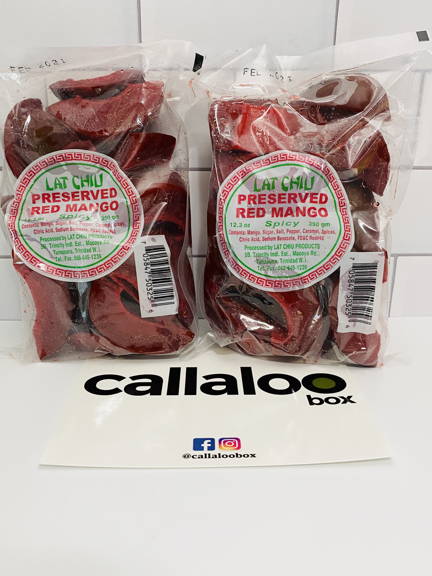 "Ordered 4 packs as soon as I got the alert on back in stock items because I know they get sold out so fast! Taste great and soo fresh. Thank you Callaloo box for bringing these delicious treats to us!"


Want be the first to know about our latest collections?
Always stay up to date with our new arrivals, special deals and so much more.