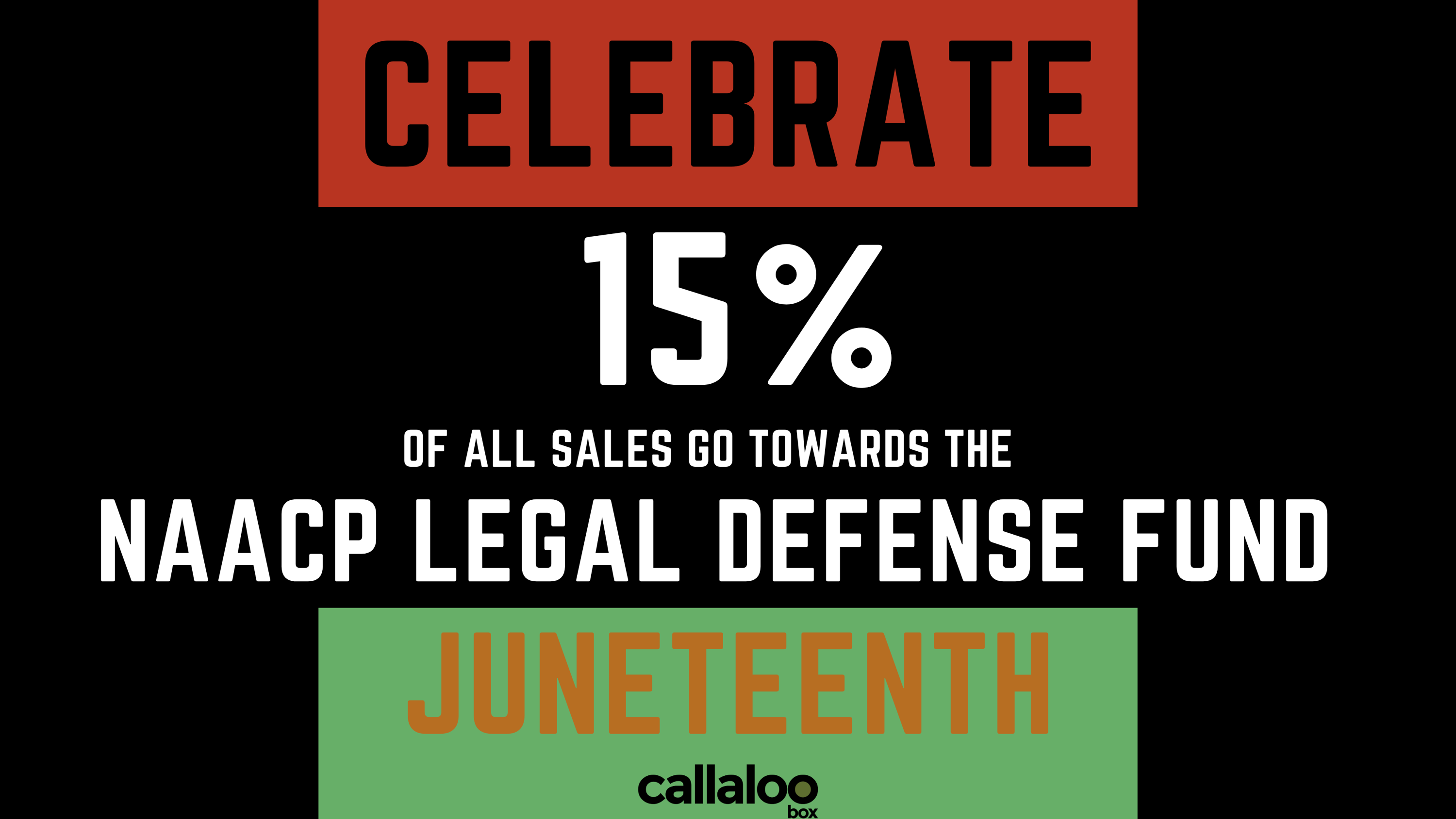 In celebration of Juneteenth Callaloo Box will be donating 15% of our sales from now through Sunday June 21st to the NAACP Legal Defense Fund (LDF). The NAACP LDF 'is America's premier legal organization fighting for racial justice. Through litigation, advocacy, and public education, LDF seeks structural changes to expand democracy, eliminate disparities, and achieve racial justice in a society that fulfills the promise of equality for all Americans.'
Recent events have brought to the forefront an unprecedented national discussion on systematic racial injustices and inequalities that have always existed. Though the conversations and outrage started with the injustices in the criminal justice system, they have now expanded to highlighting the inequalities and systematic racism that permeate all areas of society from health care to education, corporate America and all industries from fashion to the culinary world.
Inequalities and injustice exist in all stages of the criminal justice system, not only police brutality.
'The NAACP LDF has challenged inadequate legal representation, discriminatory jury selection, capital punishment, and criminal statutes and harsh sentencing that disproportionately impact African-Americans and conspire to ensure the incarceration of large numbers of Blacks in prison.'*
The US represents 5% of the world's population but 25% of the world's prison population. Laws and policies have led to this mass incarceration. Between 1970 and 2014 the US prison population grew from 357,292 to 2,306,200. Ava DuVernay's documentary, "13th" (Netflix and YouTube), documents the history of institutionalized inequality in the criminal justice system from the abolition era through now.
97% of those currently incarcerated never had a trial but instead accepted plea deals for reasons like the inability to pay bail or the fear of legal mandatory sentencing laws. "The Time: The Kalief Browder Story" (Netflix) documents the 'tragic case of Kalief Browder, a Black Bronx teen who spent three horrific years in jail, despite not being convicted of a crime' after refusing to accept a plea deal and maintaining his innocence.
Shop for individual items in the Callaloo Grocery & 15% of your purchase will go towards making a difference
#criminaljusticereform #13th #kaliefbrowder #juneteenth #blm #blacklivesmatter #callaloobox