The Ultimate Caribbean Seasonings Box
We're kicking off the Holiday Season here at Callaloo Box with the return of one our most popular boxes - the Ultimate Caribbean Seasonings Box!
Malika & I have such amazing memories of celebrating Christmas at home in Trinidad. A major part of the celebrations of course was the food - pastelles, ham, home made bread & black cake. However, the most cherished of our memories was the time that we spent with family & friends through out the season. We are thankful of these memories and will always cherish them.
Thanksgiving here in the United States will be celebrated this month followed by Christmas. Let us all embrace the universal principles of both holidays as we give thanks and continue to spread joy, hope, peace & love, not only during this time but all year round!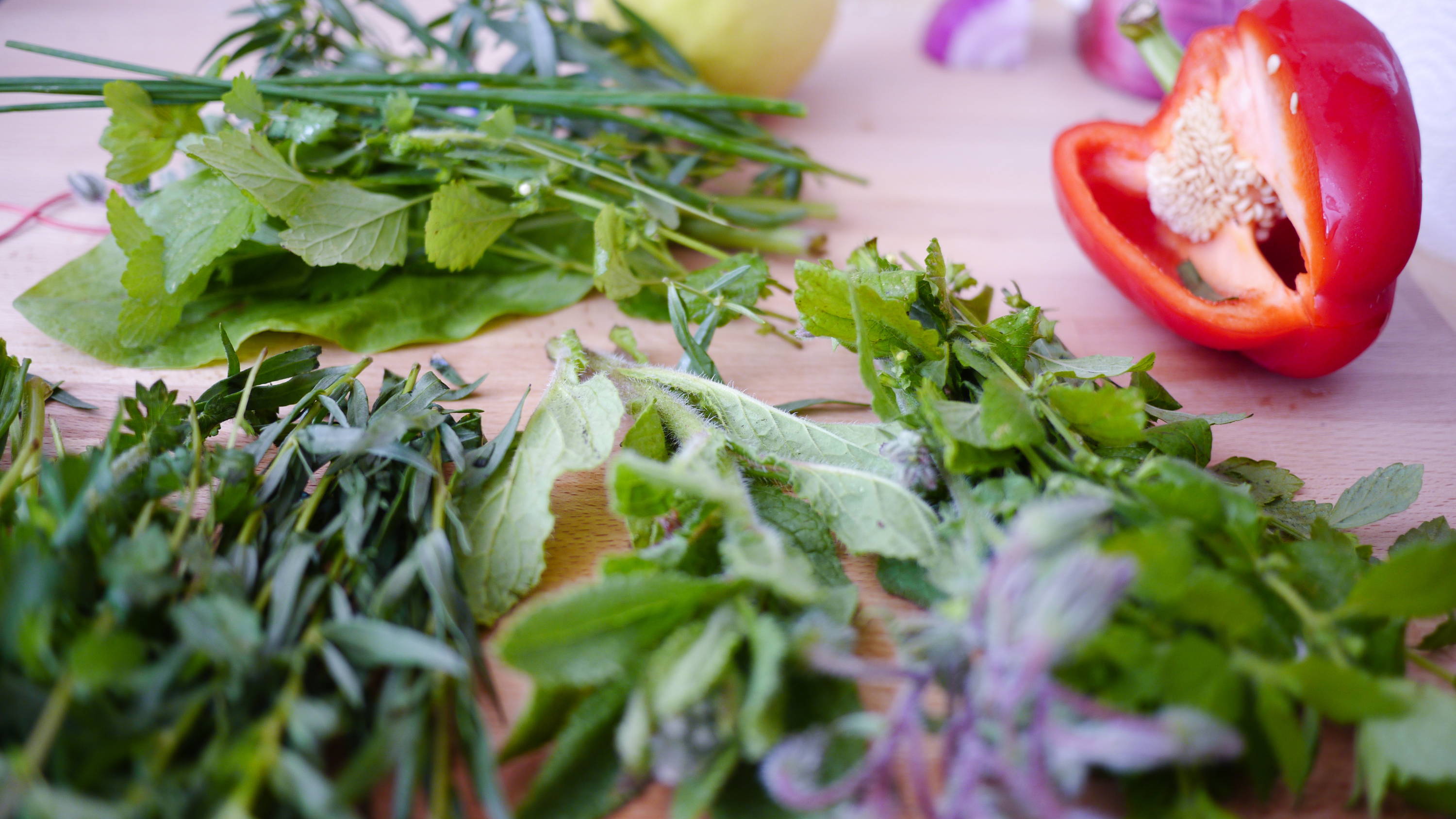 "From spices to herbs we know that great meals start with great seasonings!"
The foundation of Caribbean cooking lies in the seasonings. Our ancestors came from all corners of the world, bringing their food & techniques and adapting to what was available to them.
From spices to herbs we know that great meals start with great seasonings! As the Holiday season approaches, in this box we celebrate the cornerstone of Trinbagonian & Caribbean cooking that makes it one of the most flavorful cuisines in the world!
What's included in November's box?
Green Seasoning

A staple in any Caribbean kitchen, green seasoning is a blend of herbs & spices which includes shandon beni (culantro), pimento peppers, chives, ginger, garlic, thyme & hot peppers to make a rich, flavorful marinade that forms the foundation of almost every Caribbean dish. When these ingredients aren't available or you just need to save some time - this is an excellent option!

Pimento Sauce

Arguably one of the most important seasonings in Trinbagonian cooking. The pimento pepper is a seasoning pepper which means it's full of flavor but without the heat. An excellent substitute when you cannot get fresh peppers, this sauce can be used in green seasoning, stews, soups, beans, pelau, cook-ups & more!

Creole Seasoning

Marinade made of a blend of various herbs, onion, papaya and molasses, that can be used for poultry, meat or seafood. For enhanced flavor, marinate 24 hours prior to cooking.

Multi-Purpose Seasonings

These shaker packs are a simple way to add extra flavors of the Caribbean to your poultry, seafood, rice, soups or bean dishes!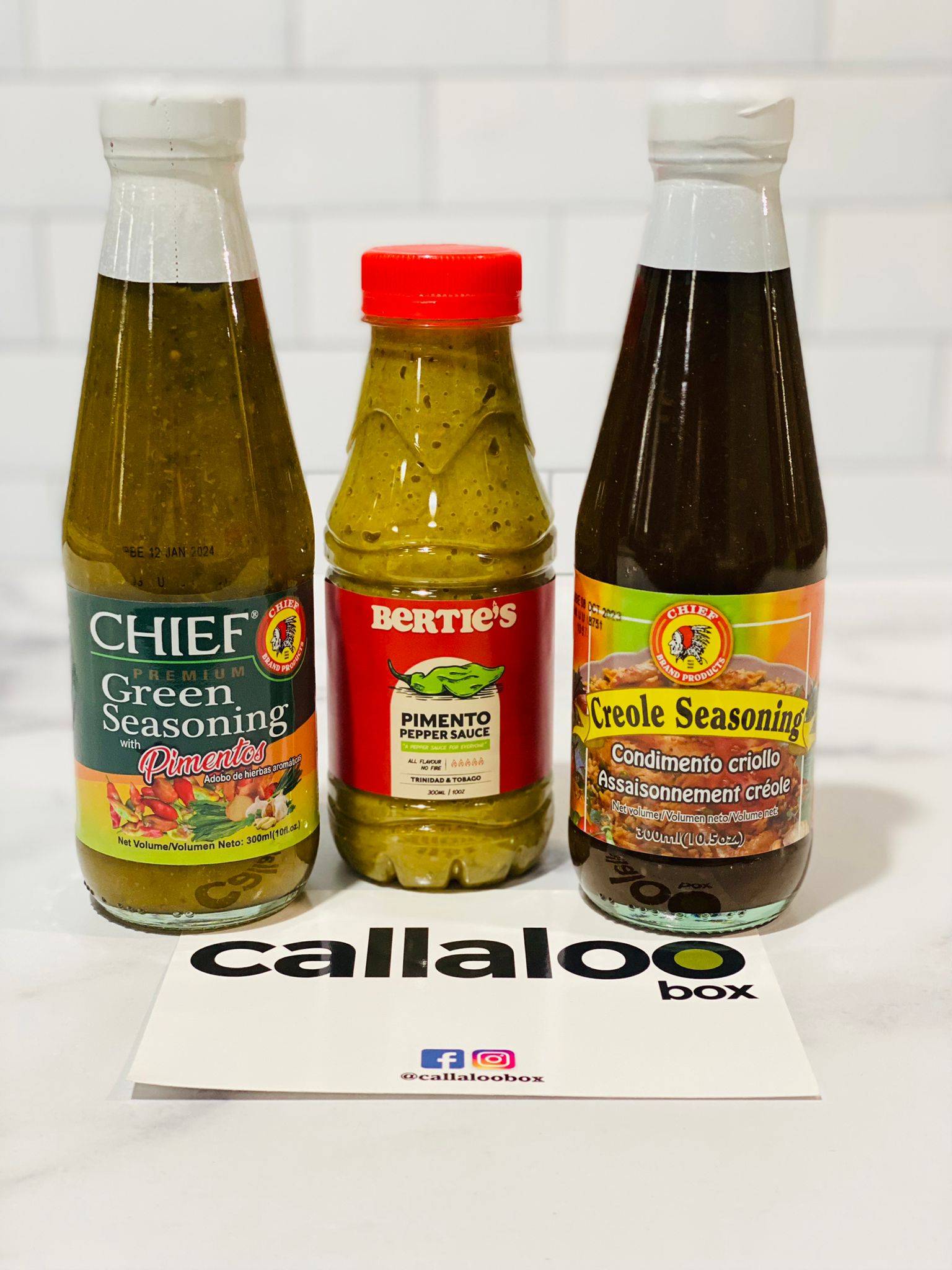 Flavorful sauces & seasoning from our Chinese heritage that are uniquely Caribbean. These will add that truly authentic Chinese Caribbean taste to your dishes.
Seasoned Soy Sauce

Use for fried rice dishes or to prepare marinades for meat or vegetables. Can also be used as a substitute for salt in your dishes.

Dried Chinese Seasonings

A simple way to add authentic Trinbagonian Chinese flavors to all your dishes. Can be used in fried rice or stir fries or as a rub for poultry & seafood.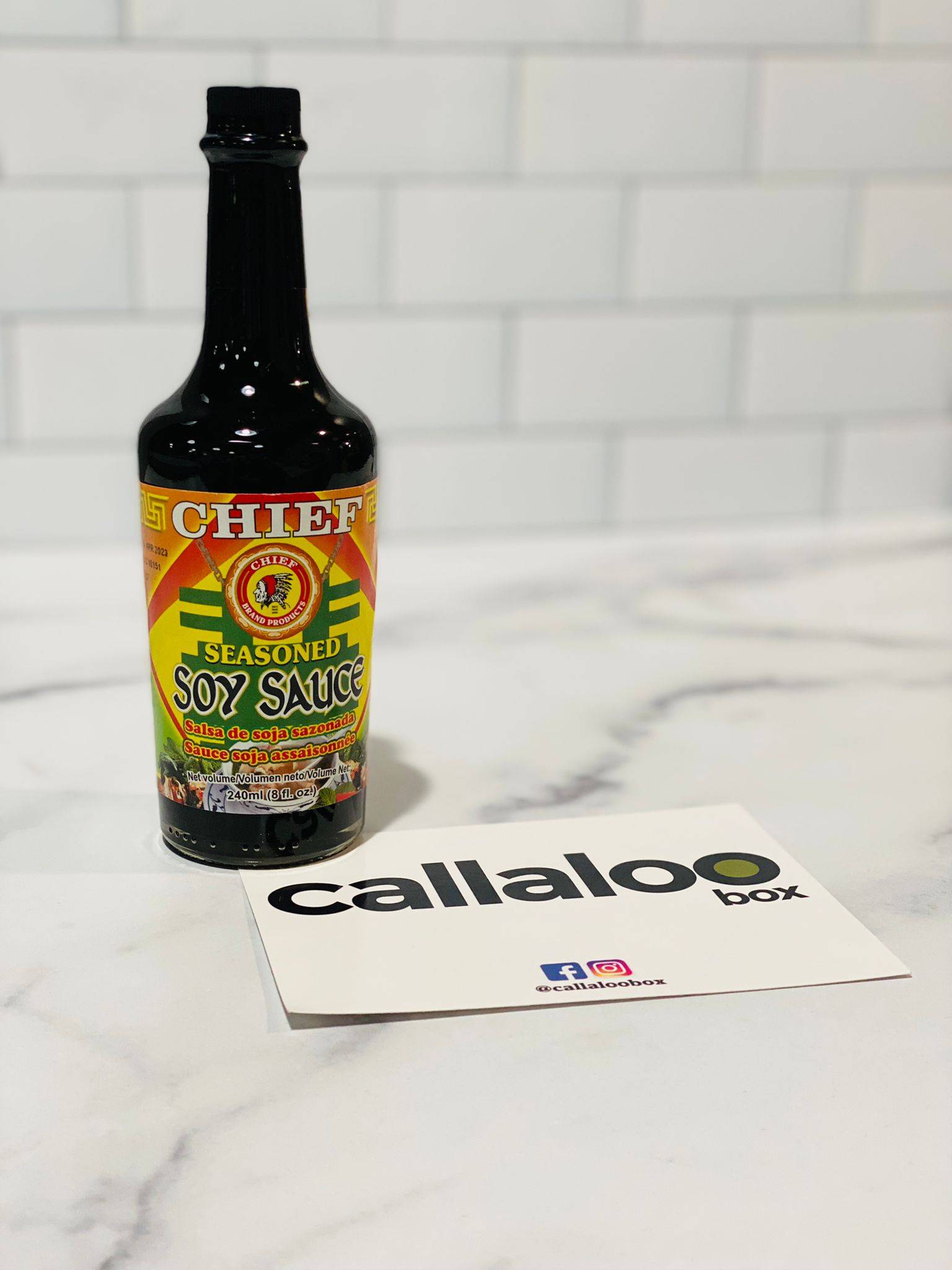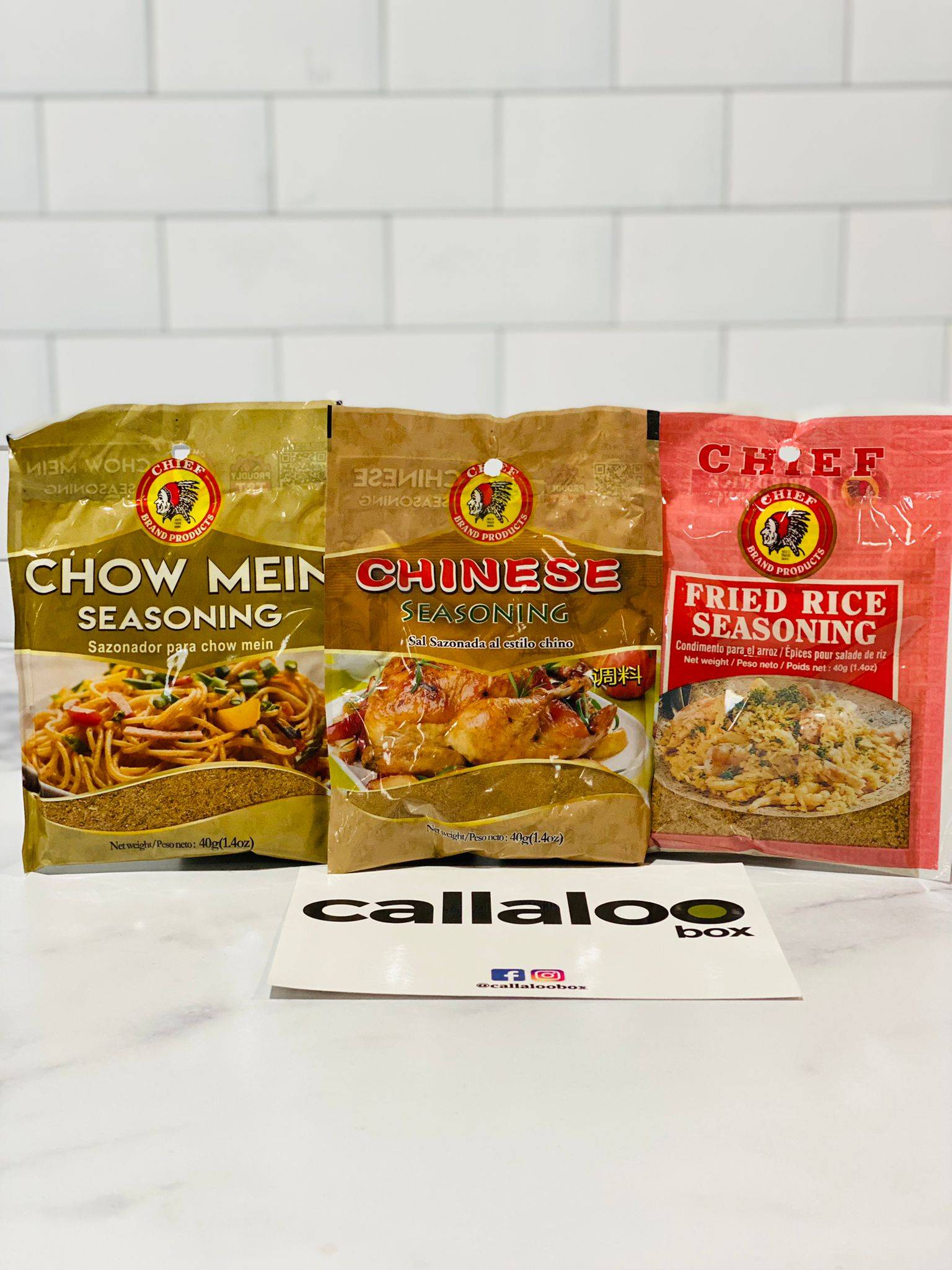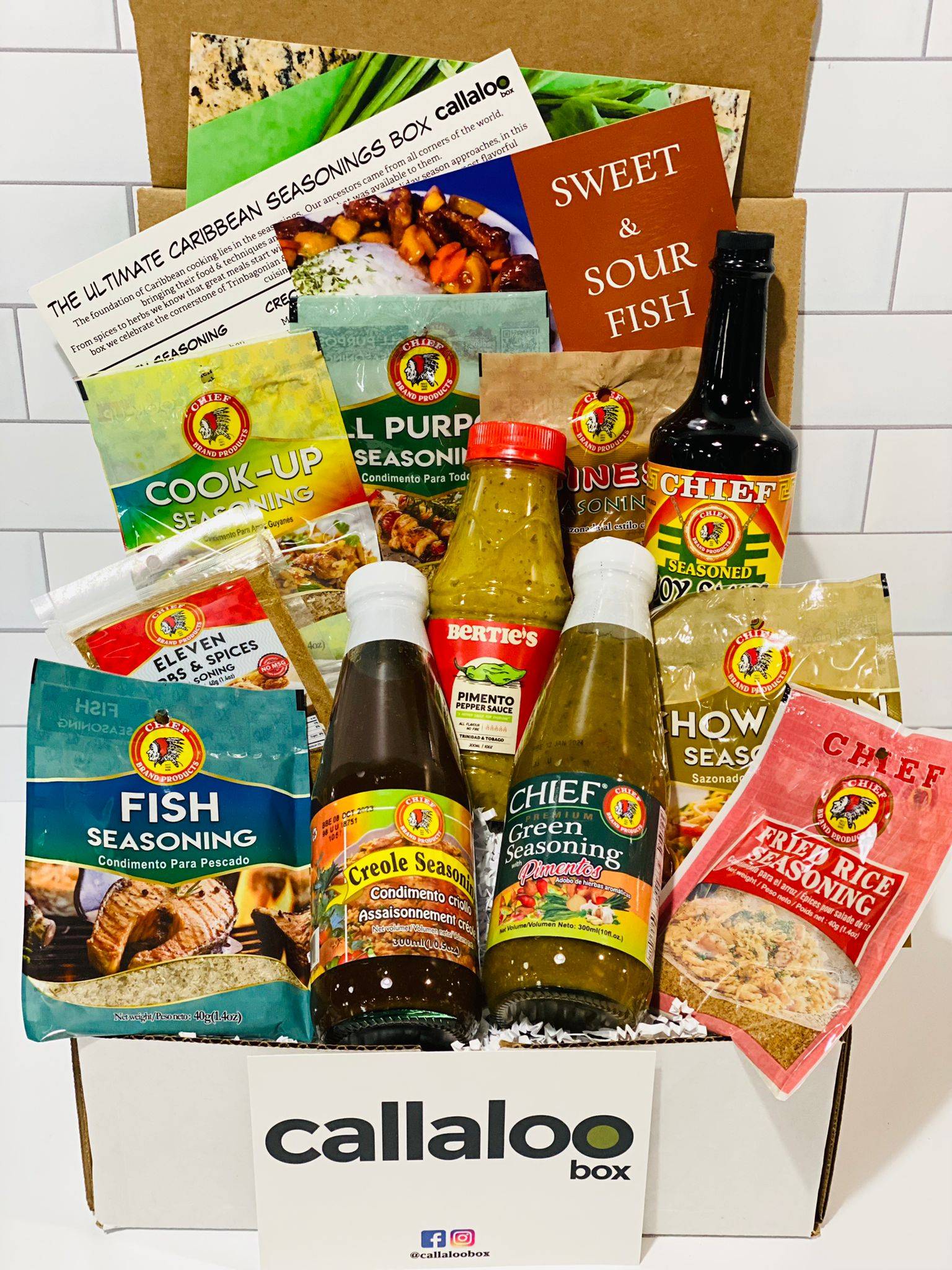 Shop individual items in the Seasonings Shop
New Month! New Box! New Grocery Specials!
Look out for specials throughout the month in the Seasonings Shop where you can shop for individual items!
Frequently asked questions
Have questions? We're here to help
How long does it take for my order to ship?
Please allow 2-4 Business Days for orders to process before they are shipped. We do not ship on Saturdays, Sundays nor US Federal Holidays.
How long does shipping usually take?
Transit times to your destination vary based on your location (We ship from South Florida). Shipping takes between 1 and 4 business days for standard delivery.
Once your order is shipped you will receive an email from orders@callaloobox.com which contains the name of the shipping carrier and the tracking number. Please check your junk/spam folders if you haven't received the shipping confirmation email.
Click on the tracking number in the email and you will be directed to the carrier's tracking page for the latest update on the location of your package.
Callaloo Buck$ is our free loyalty program. Earn buck$ for online purchases, social media activity & referring friends. Redeem your buck$ for cash!
How do I sign up for Callaloo Buck$?
Signing up is free and easy. All you have to do is create an account online. As soon as sign up, you automatically earn 200 Buck$ ($5 reward) and can start earning additional Buck$. Sign up here.
How do I redeem my rewards?
Once you earn rewards, you can redeem them by clicking on the green "Callaloo Buck$" button or green gift box at the bottom left of your screen. Select "All rewards". Select "buy" next to the reward you would like to redeem. Copy the code and enter it into the discount code box when checking out. The coupon code applies to all items on callaloobox.com with the exception of monthly subscription boxes and items purchased with the subscribe & save option.
I redeemed points but have not used it. Where do I find it?
Once you redeem your Buck$, you can view unused ones by logging in to your Callaloo Box Account. Click the green "Callaloo Buck$" button or green gift box at the bottom left of your screen. Scroll down to "Your rewards" and select. You will see your available rewards, select the reward you would like to spend. Click Copy Code, shop our store & add the code to your cart at checkout.